View and Record TV on Your PC:-
If you're a TV junkie looking to control your daily dose, ATI Technologies and Asus Computer International offer computer geeks two alternatives to the popular TiVo personal digital recorder and service. Both the $100 TV Wonder USB Edition from ATI--a 125-channel external tuner that plugs into a PC's USB port--and the $189 AGP-V7100 Deluxe Combo graphics card by Asus let you view and record television programs on your PC. I tested shipping models of each.
Both products accept input from cable or antennas and have inputs for a VCR, Super VHS, and audio. The ATI TV Wonder USB plugs into your PC's USB port; you need not open the lid.
In contrast, you have to go inside your PC's case to install Asus's V7100, a combination graphics and TV tuner card that replaces your regular graphics card.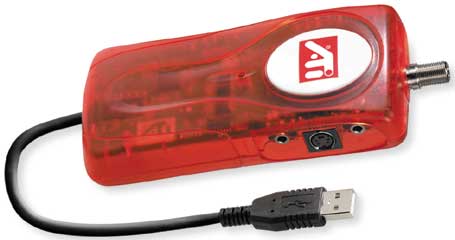 The ATI's easy installation comes with significant trade-offs. Because USB transfers data more slowly than an AGP bus (which the Asus, for its part, does use), the ATI can't handle data-intensive TV time-shifting, the feature that lets you pause live TV.
In addition, it can't record video at resolutions above 352 by 240. In my informal tests, when I ran multiple programs concurrently, the ATI's TV sound and video sometimes got slightly out of sync.
Program Guide
You can use ATI's searchable interactive TV program, Guide Plus+, to schedule and record shows for later playback. To do so, download seven days' worth of television programming schedules from ATI's partner Gemstar; you can search program listings by actor, genre, or show.
Once you locate the program you want to see, click the Record button and make sure your PC is on when the show airs. Unfortunately, accessing the guide was a struggle: ATI's software had the wrong URL embedded in my copy, and as a result I had to call tech support to get help with reconfiguring the software.
One ATI feature that I liked, called TV Bar, combines Microsoft's Internet Explorer browser with the ATI video feed. Activate TV Bar, and a mini-TV screen appears embedded in the upper-left corner of the browser window, allowing simultaneous Web and channel surfing.
Asus's AGP-V7100 Deluxe Combo comes with personal video recorder software for rewinding, pausing, and running almost-live TV in slow motion, which gives you full time-shifting capability. Although this software is far less robust and polished than TiVo's, it provides the same basic functionality, and it permits you to record video at a resolution of 740 by 480.
To handle your PC's video needs, the AGP-V7100 uses NVidia's GeForce2 MX graphics chip set with 32MB of on-board memory. But while this low-cost graphics chip set takes adequate care of your computer's graphics needs, it really can't compete with high-end graphics boards.
To install it, your PC must have an AGP slot. Besides offering TV support, the card can handle another VGA monitor or television; and the included SmartVR 3D glasses add 3D effects to some video games. You also get utility software, including Ulead's VideoStudio 4 for video editing.
A Few Glitches
The package is a veritable Swiss Army knife of PC entertainment options, but too many of the blades are dull: The 3D glasses didn't work, the video editor is fairly rudimentary, and the time-shifting feature occasionally froze the program, forcing me to crash the software.
Asus should have shortened the features list and ironed out the kinks in the software it included.
Initially I was excited by the prospect of having swanky video options on my desktop, but ultimately I was disappointed with both these products. Still, boob-tube tubers interested in digital video recording without investing in TiVo ($300 or more for the hardware and $10 per month subscription fee) might want to give one of these PC-based approaches a try.